The opening day of judo at the Tokyo 2020 Paralympic Games delivered emotional scenes inside the Nippon Budokan on Friday. Dreams were made and ended on the tatami as Azerbaijan claimed two golds, with Algeria and Uzbekistan sharing the two remaining top spots.
Former Paralympic champion at -52kg, Sandrine Martinet (FRA), faced a far less experienced opponent in the final of the -48kg, having stepped down a weight in an unusual move at this level. A brutal clash ensued with a real to and fro of attacks and potential scores. Azerbaijan's Shahana Hajiyeva was the first to score but the lead never looks secure and Martinet equalised almost at the bell. In golden score though, the dominance was clearer and Azerbaijan took the gold in front of a heartbroken Martinet, an outstanding result for the 21 year old.
Hajiyeva said, "I'm very happy to be Paralympic champion at this young age. I always had hopes for that and I knew that if I put everything into coming here, I would also put my everything into getting to the top. There was no other way but that! This will always be a motivation for me and I believe that I will be able to repeat it and so I will aim to in the Paris Paralympics in 2024."
Martinet, despite her initial upset, delivered optimism, "It's so great to have this kind of medal in my life. I love it. I'm very proud. I was competing in a nee category and that's a difficult challenge, so it's a great day."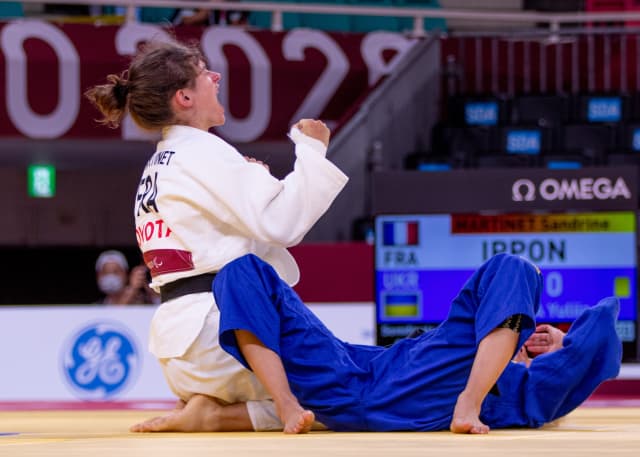 Martinet (FRA) overjoyed at reaching the final. Photo credit: Rafal Burza
The Russian Paralympic Committee's (RPC) Viktoriia Potapova collected her latest Paralympic medal with a bronze medal at -48kg. She showed her experience with an excellent choke against Chinese Taipei's Kai Lin Lee and she spoke after the medal presentation, "This is my third bronze. It took a lot of hard work to get here, not even for the usual four years, but five. It was a very difficult time, not just for me but for everyone."
Potapova specifically referenced the long days away from her daughter as she trained for Tokyo 2020. "I really wanted gold but it was destined to be bronze and that's a sign that we need to compete for gold in Paris in 2024 and even beyond."
Having beaten China's defending Paralympic champion for a place in the bronze medal match, London 2012 silver medallist Lee Lin just missed a return to the podium.
The second bronze went to Ukraine's Yuliia Ivanytska; her third Paralympic medal.
In the women's -52kg category Algeria's Cherine Abdellaoui was absolutely delighted with her gold medal, improving on the third place she won in Rio in 2016.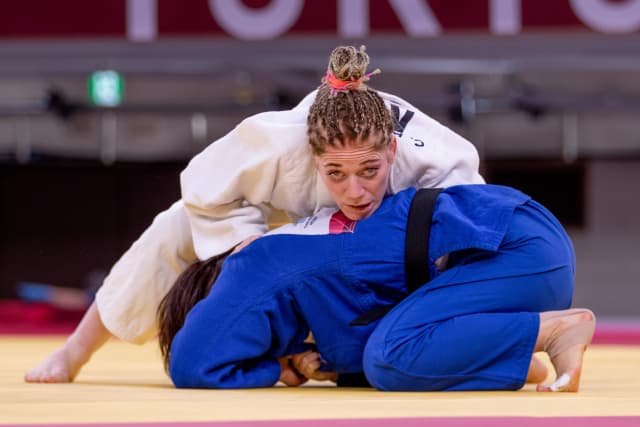 Algeria's Cherine Abdellaoui on her way to Paralympic gold. Photo credit: Rafal Burza
The Algerian bettered Canada's world number 2 and World Championship bronze medallist Priscilla Gagne, throwing her for ippon. However, Gagne is still pleased to win her first Paralympic medal.
The category also saw heartbreak for Japan as RPC's Alesia Stepaniuk held Yui Fujiwara down for ippon and earned the bronze.
Ukraine's Nataliya Nikolaychyk beat Germany's Paralympic silver medallist Ramona Brussig by ippon, repeating her bronze medal winning performance from the London 2012 Games.
In the men's -60kg category Azerbaijan secured their second gold of the day, courtesy of Vugar Shirinli. In the final he faced Anuar Sariyev of Kazakhstan; a tense match with both competitors holding their breath for ippon at nail-biting moments. It was eventually Shirinli who won to become Paralympic champion.
Shirinli said, "I'm very proud of being here. I did everything I could do. My opponents were also not weak; they were very strong, but I became the champion because I put my all into that. This was one of my biggest dreams and I'm very happy to be here because it is also a really good motivator for me to plan to participate in the next Paralympic cycle. I have a big desire to be there and to be a champion there as well."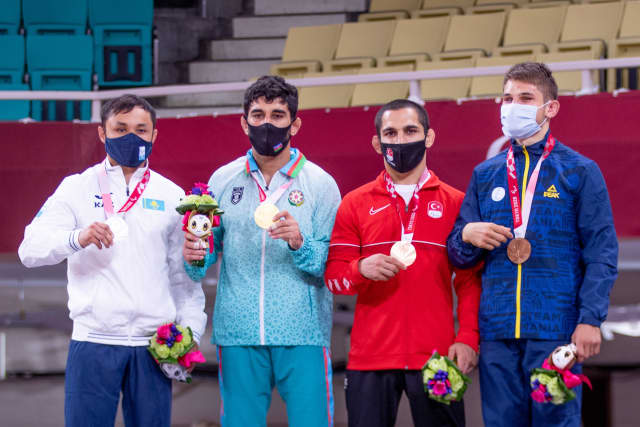 Turkey's Recep Citfci claimed a bronze after beating Venezuela's Marcos Dennis Blanco, who had earlier beaten Uzbekistan's Paralympic champion Sherzod Namozov, although Namozov was able to continue in the repecharge. It was not to be, however, as Romania's Alex Bologa was stood firmly in his way in a bronze medal contest that lasted nearly six minutes, in which Namozov became frustrated. World number 1 Bologa was determined to make-up for missing out on a place in the final and managed to repeat his bronze medal from Rio in 2016 by holding his nerve.
"It was a very tough competition and a very tough period we had beforehand," Bologa said. "I wanted to succeed and get to the final and win the category but I'm very happy with this bronze medal. It was very hard to get up after losing the semi-final against Shirinli, in a very hard golden score fight. I was motivated by my coach and by myself to win another medal and to put a crown on this particular five years since Rio."
The men's -66kg podium saw Uzbekistan's Uchkun Kuranbaev's match with Spain's Sergio Ibanez go to golden score before the Uzbek managed to tip the scales in his favour and climb on to pole position. This gold is Kuranbaev's first major medal and his country's first of Tokyo 2020.
The men's -66kg group also featured a delighted home crowd following a fantastic ippon from Japanese 21 year old Yujiro Seto to win bronze. Azerbaijan's Namig Abasli secured the second bronze, beating Ukraine's former Paralympic bronze medallist Davyd Khorava.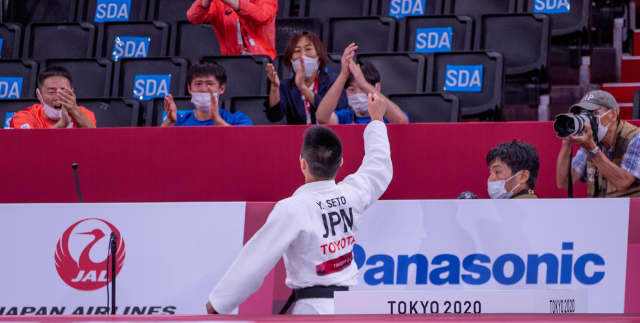 Seto (JPN) enjoys the ippon for bronze. Photo credit: Rafal Burza
Judo at Tokyo 2020 continues on Saturday 28th August with the men's -73kg and -81kg categories and the women's -57kg and -63kg contests.
Co-Written by Lucy Dominy of IBSA.
Photo © IBSA Judo Rafal Burza